WebSBA Program Flow basics. Maim Menu
Using the Functional Navigator to understand the basics of the program and the transaction flow.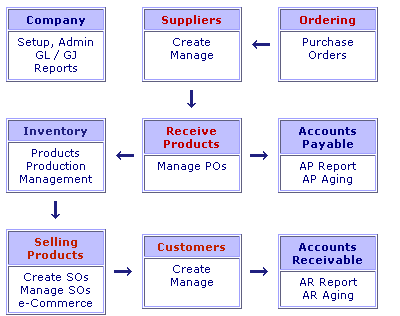 The Navigator is like a high-level block diagram of the program. It is  provided to help the beginner understand the flow and make it easy to locate the various functions. The Navigator toggles with the Main Menu, which provides access to all functions in the program.
I. Starting up new company
1. "Company"

As in any accounting program, you must define a Chart of Accounts and setup a company name and preferences for your company, before proceeding with any transactions. Select "Company" then "crate new" if you need to create a new account. The system comes with a standard chart applicable to most situations. To make changes to account descriptions click on the account name link at the outset before balances are posted to the accounts. To enter company name and other relevant information click on the "Admin" link within "Company" block

2. "Inventory"

Inventory records are prerequisite for creating purchase orders and sales orders. Select the title of this block or the "products" entry, within it to create a new product.  Product is defined as any component assembly or service. They all must be created here first. Assemblies have A or F as their category ID. You can define structures (BOM) for Assemblies only, under "production management". You can make changes to description and other fields within all products under "manage" products by selecting "Edit, View, Delete". You cannot delete a product with inventory quantity  and/or if the product is part of an assembly. To change the cost of a product you must go to "Physical Inventory". To "edit" a structure (delete an item from an assembly) go to " create /edit assemblies".

<![if !supportLists]> 3. <![endif]>  "Suppliers"

Supplier and inventory records are prerequisite to creating a purchase order. In this block you create new suppliers and "Manage" make changes to existing. You cannot delete a supplier with balances or open purchase orders.

4. "Customers"

Customer and inventory records are prerequisite to the creation of a sales order. In this block you create new customers and "Manage" make changes to existing. You cannot delete a customer with balances or open orders.<![if !supportEmptyParas]> <![endif]>

<![if !supportLists]> 5."Ordering"

After the creation of inventory and supplier records go here to create an purchase order. A purchase order can be cancelled and or modified under "Manage POs" before the product is received.

6. <![endif]>"Receive Products"

Products ordered via PO are received into inventory. Once Received a PO cannot be cancelled.

<![if !supportEmptyParas]> <![if !supportLists]> 7. "Selling Products"

As in Suppliers you must have a customer and an inventory record to create a Sales order/Invoice. Click on the title of the block or on "Create SOs" to create a Sales order and an Invoice. A sales order cannot be canceled after it has been invoiced. The program provides for payment immediately after the invoice is created. If there is no payment the transaction will be added to the accounts receivable list. Payment can be received from "Manage" Sales orders" or from Accounts receivable "receive payment"

8.Accounts payable

After receiving a product the inventory is increased and an A/P record is created. Click the title or on "A/P reports" to review. You can go to "Company' and invoke the "Transaction" file to see the transaction entries. Click on "Make payments" to pay a Purchase order. Go to "Company" "Checksbook" or "General Journal (G/J)" to pay expenses which are not related to Purchase Orders.<![if !supportEmptyParas]> <![endif]>

<![if !supportLists]> 9. <![endif]>Accounts receivable

Go here to produce accounts receivable and aging reports. Also receive payments from customers on outstanding invoices. Any other customer payment must be made from the "check book" or General Journal. <![if !supportEmptyParas]> <![endif]>
<![if !supportLists]> II.
<![endif]>Entering Transactions

<![if !supportEmptyParas]> Go to "General Journal" to enter transactions. A helpful table is displayed to assist those who are not very familiar with debits and credits.<![endif]>

<![if !supportLists]> 1. <![endif]> Depositing Money in the bank.

A start up company deposits money from owners and investors into the bank. You can use either the checkbook or the General Journal to accomplish this. In both cases Debit the appropriate Bank and Credit an  equity account.

<![if !supportLists]> 2. <![endif]>Paying Misc. Expenses.

To pay expenses again the checkbook or the General Journal

<![if !supportLists]> 3. <![endif]>Creating Purchase orders.

Go to the ordering block. To  Manage purchase orders go to the "receive products" block and click on Manage Pos.

<![if !supportLists]> 4. <![endif]>Receiving Purchase orders. 

You can receive a purchase order and make payment at he same time. If you choose to make payment later, you can do from either "Manage POs " or from "Accounts payable " "Make Payments"

<![if !supportLists]> 5. <![endif]> Paying Vendor invoices. 

<![if !supportLists]> 6. <![endif]>Creating Sales Orders / Managing Sales Orders, go to the "selling Products" block

<![if !supportLists]> 7. <![endif]>Releasing Sales Orders / Creating Invoices. You can release an order immediately after creating a sales order, or you can do it later from "selling products" "Manage Sos".

8. Receiving payments from customers. You can receive payment by selecting "yes" to the choice offered upon completion of the Invoice.. Or you can go to "Manage Sos" block or to "Accounts receivable " block

 

"Receive Payment">

9. Paying Miscellaneous Bills not Accounts Payable. .see above>

10. Making Journal entries. Go to "Company" block. And invoke the program. The program displays a table to help the novice with the Debits and Credits. Reviewing the General Ledger and Transaction file

III. System Administration

11. Backup and restore database.

I

V.

Reporting